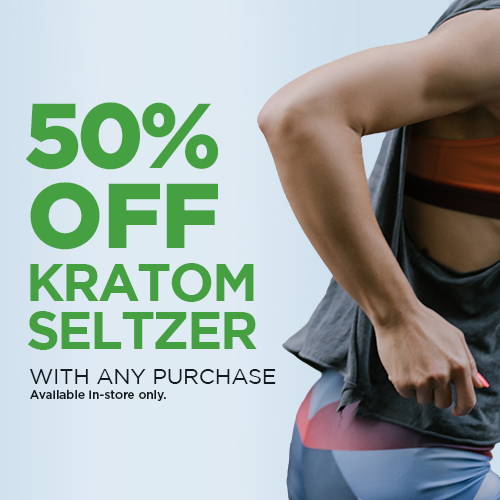 Now or Save it for Later!
CBD Kratom is the leading-edge dispensary for CBD, kratom, delta-8 THC and other cannabis products. We offer offer over 600 cannabis products and over 50 strains of kratom and kratom specialty items.
CBD Kratom has 55 retail locations nationwide with 9 stores in the NYC area. Stop by our new Williamsburg store and help us celebrate with this limited time deal.
Mornings are often a scramble of trying to fit in a workout, preparing lunches, and rushing out the door. You may find green or white vein kratom helpful in the mornings to give you a much-needed boost as you prepare for your day. Consumers typically find green vein kratom strains helpful in providing energizing effects, stress relief, mood boosts, and clear-minded focus. Many consumers use smaller servings of kratom when looking for more energizing effects while larger servings may provide more relaxing, calming effects. Strains like Green Borneo, Green Dragon, or Green Sumatra may be good choices for your morning routine with capsules or powder options. You may also find your morning pick-me-up with Korthal's Collection Alpha Tincture. This water-soluble tincture blends seamlessly with your favorite, chilled morning beverage to help uplift your mood, increase your focus, and pump up your morning energy. Many customers enjoy the Korthal's Collection Kratom No 214 Extract to provide calming effects while also enhancing focus and mood. This extract may help with calming morning stress or worries to focus on your day's priorities. The Korthal's Collection No 395 Kratom Chocolate Bar may be the afternoon pick-me-up to overcome your afternoon slump. This kratom chocolate bar may boost energy, uplift mood, and provide pain relief. Break off a serving to help maintain your productivity for the day and maybe even find some relief for that stiff neck or back.
Power Through Your Workout
If you are trying to form an exercise habit, your motivation and mood play into following through with a new fitness routine. Whether you are fitting in a workout in the morning or after work, your focus and energy may be lacking at the start or end of your day. Kratom may provide focus and motivation to power through your exercise routine. These Korthal's Collection No 315 Kratom Gummies may give you an encouraging boost to mood and increase your energy levels, so you can break through the sluggish feelings that may be preventing you from hitting the gym. With kratom edibles, you should plan to take a serving about 30-60 minutes before you anticipate needing an extra energy boost. The White Borneo strain in capsules or powder may provide a good fit as a pre-workout option. This strain may provide pain relief, boost your mood, reduce stress, and increase motivation. You will want to take the kratom powder or capsules about 30-60 minutes before you plan to exercise to ensure the effects set in before your workout. Already planning a pre-workout snack? Try mixing some kratom powder into your Greek yogurt or stirring it into a protein-packed smoothie. For faster-acting effects, kratom extracts, like the Korthal's Collection Kratom No 253 Extract, may help you feel a boost in energy and mood within 15-20 minutes. The Korthal's Collection No 546 Kratom Elixir is another convenient option for a pre-workout boost. Kratom's pain-relieving properties may help with muscle or joint soreness between workouts. The Korthal's Collection Cold Brew Teas are a grab-and-go hydration option which may ease pain, so you can continue your cardio.

Shop CBD Kratom in New York!

Williamsburg - Now Open!
(347) 721-3503
Open 8am – 10pm, 7 Days a Week


NoHo @ 0 Bond
- Coming Soon!
670 Broadway
New York, NY 10012

929-877-9552

Forest Hills - Coming Soon!
70-09 Austin St.
Queens, NY 11375
347-960-7028