As you prepare for summer festivities and cookouts, remember pets might be feeling the heat this season. These treats may help your pets enter into a summer pawadise! Find your pet's favorite treat to help them keep calm while you're on the go. Whether your main concern is the summer heat or the booming fireworks, whip your pet up a frozen treat infused with cannabidiol (CBD). With these DIY recipes, you can help your pets chill out and beat the summer heat! Soak up the sun with your pets this summer by stocking up on the CBD Pet Products to help your furry friend find their summer pawadise.
Avoid the Furry Frenzy with CBD


For your pets, summer fireworks are often a more intense experience especially with their keen senses. These explosions of color in the sky are sudden and unpredictable, so pets, like us, will often react with a startle response. Your pets may experience fear-related anxiety from these triggers and separation anxiety when you leave to attend summer festivities or take a short vacation. Many pet parents find CBD helpful in managing their furry friends' stress levels. Learn more about CBD's benefits for your pets in our blog,

Pets Can Take CBD, Too

.
CBD is a great tool to help your pets keep those tails wagging. Before giving your pet CBD, we recommend discussing additions or changes to your pet's diet with your veterinarian. If you haven't given your dog or cat CBD before, you may want to give it a test run to see how your pet reacts. As a pet parent, you know your pet best, so you can monitor your pet's response to CBD and make adjustments as needed. For specific scenarios, like visiting the groomer for a summer haircut, your pet may benefit from using CBD 30 minutes to an hour before the situation. If you find CBD helpful for your pet, you may consider
Starting a CBD Routine for Your Pet
, like transitioning your dog's food to
CHEMDAWG'S CBD Premium Adult Dog Food
which may contribute to their overall wellness.
Unleash the Treats On the Go
If you're planning an Independence Day getaway with your pet or just attending a summer event with your furry friends, you might be looking for an on-the-go treat to help endure a long car ride or brave the crowds. Grab
Todd Adams CBD Pet Treats
in cheese or bacon flavor to give your pet when you're on the move. Does your pup love pepperoni? Then, the
beeZbee CBD Happy Bites
might be the right fit for fido. Or add the
CHEMDAWG'S Calm-Ageddon Pet Tincture
to a spoonful of peanut butter to help your dog prepare for the summer festivities before you leave home. If you're planning to leave your cat at home to enjoy a summer cookout, pick up
beeZbee CBD Purrfect Bites
as a special treat before you head out for the day. Whatever your plans, you're sure to find the treat or tincture to help keep your pets calm and happy.
Chill Out With These DIY Treats
As the summer heat continues and the fireworks shoot across the sky, you are likely looking for solutions to help your pets keep cool–in more ways than one. During the Fourth of July weekend, consider giving your pets CBD before noon and continue to supplement with another serving every four to six hours each day to ensure your pets are prepared for any unexpected booms. Check out the following recipes for frozen treats infused with CBD to help your pets enter into their very own summer pawadise:

Frozen Yogurt & Peanut Butter CBD Treats

Frozen & Festive Yogurt CBD Treats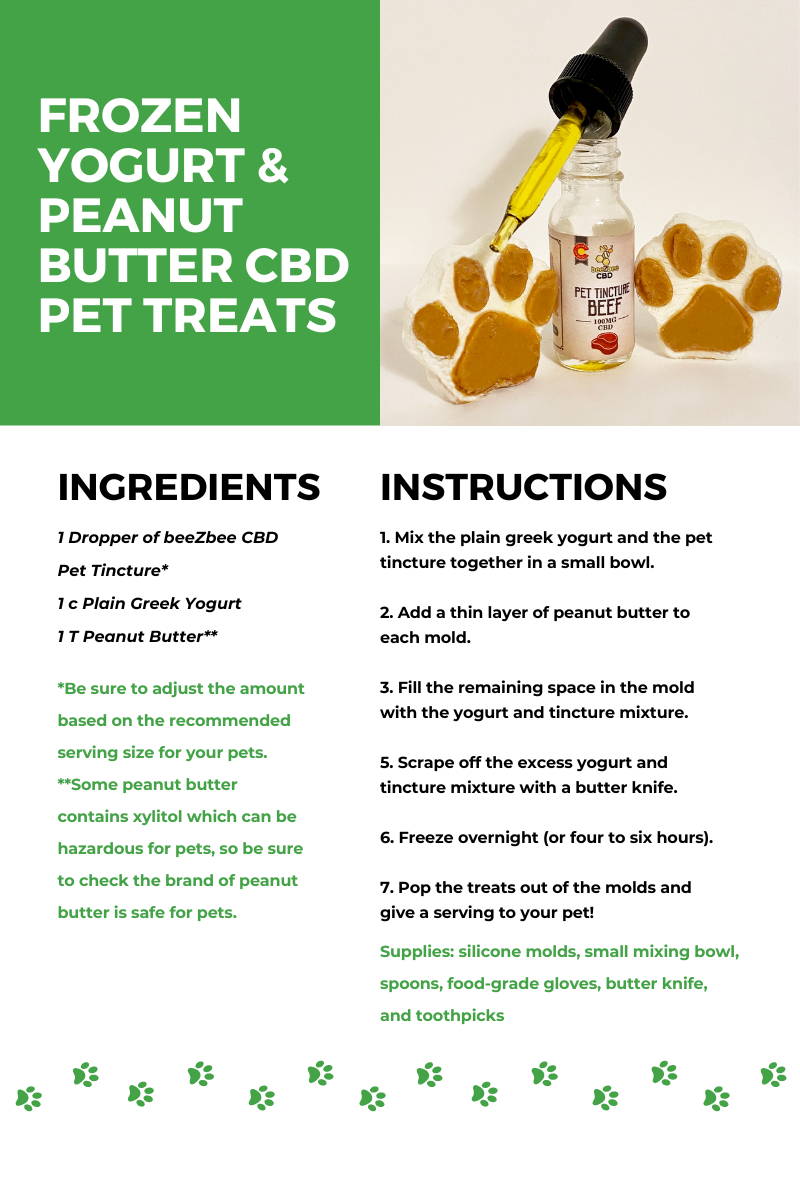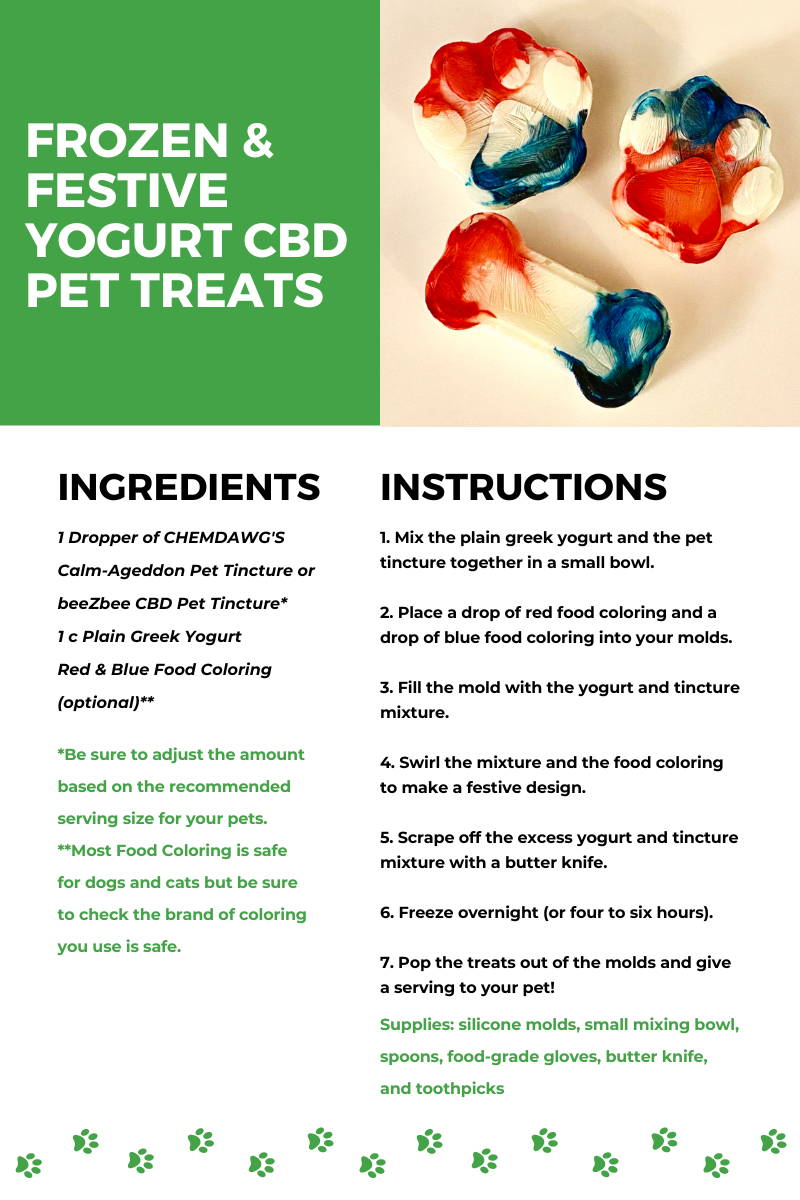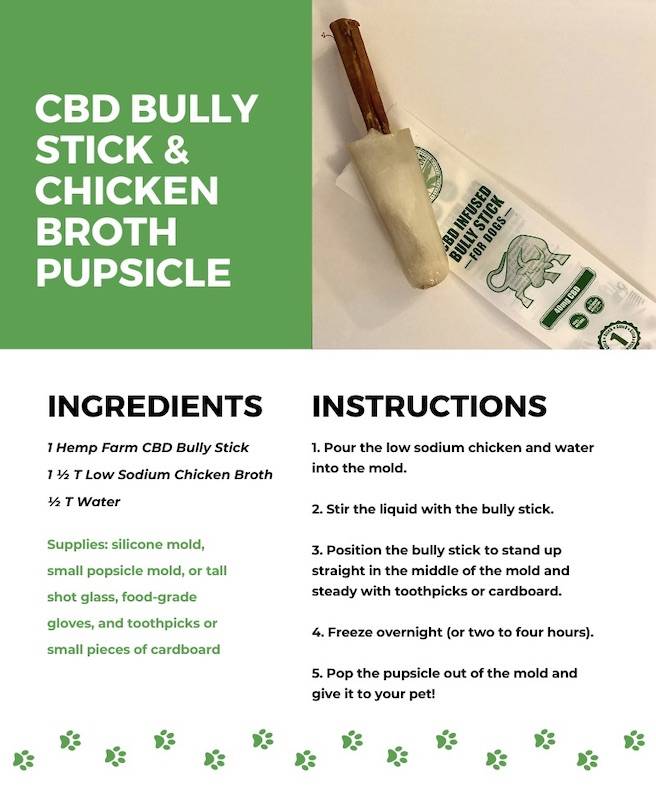 Wherever your celebrations take you this summer, make sure you are prepared to help your pets keep cool with these drool-worthy treats. Find the pet treats, tinctures, and food that are sure to please when you shop our wide selection of CBD Pet Products. Enjoy all the summer fun with your furry friends!